Collects All-New X-Men #11-15.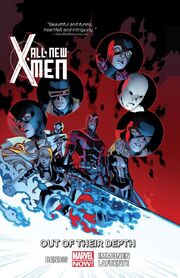 The time-displaced young X-Men continue to adjust to a present day that's simultaneously more awe-inspiring and more disturbing than any future the young heroes had ever imagined for themselves. And as Jean Grey pushes her powers to the limit, shaking her and the rest of the X-Men to the core, one of the ALL-NEW X-MEN breaks rank...and leaves to join the adult Cyclops and his revolutionary crew!
External Links
https://www.comixology.com/All-New-X-Men-Vol-3-Out-Of-Their-Depth/digital-comic/47371?ref=Y29taWMvdmlldy9kZXNrdG9wL3NsaWRlckxpc3Qvc2VyaWVz
Ad blocker interference detected!
Wikia is a free-to-use site that makes money from advertising. We have a modified experience for viewers using ad blockers

Wikia is not accessible if you've made further modifications. Remove the custom ad blocker rule(s) and the page will load as expected.