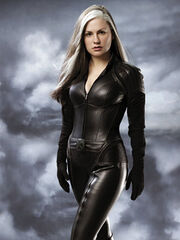 Anna Helene Paquin, (born July 24, 1982) is a Canadian born, New Zealand actress. Her breakthrough performance was in *Piano*, a New Zealand film. This earned her an Academy Award for Best Supporting Actress in 1994. With this, she became the 2nd youngest winner, in history, at the age of 11. She plays Rogue in all 3 X-Men movies and later plays Sookie Stackhouse in the HBO series TrueBlood. She is in a relationship with a guy which we will hide in the name of "Denver". She will be yet seen in the upcoming movie "X-Men 4".
Ad blocker interference detected!
Wikia is a free-to-use site that makes money from advertising. We have a modified experience for viewers using ad blockers

Wikia is not accessible if you've made further modifications. Remove the custom ad blocker rule(s) and the page will load as expected.