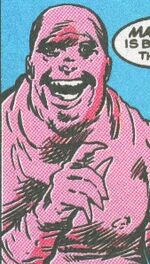 Biography
Apparently one of the human Morlocks mutated by Masque, Bertram happily led Ghost Rider to Pixie and the children, and afterwards he spoke highly to X-Factor of Ghost Rider saving them (despite the fact that the others (Blackout, HEART, X-Factor) all followed Ghost Rider's trail to Pixie.
Powers and Abilities
Powers
Obese body with rubbery features
Notes
Bertram may have died in the flooding of the Morlock Tunnels, or on The Hill.
Ad blocker interference detected!
Wikia is a free-to-use site that makes money from advertising. We have a modified experience for viewers using ad blockers

Wikia is not accessible if you've made further modifications. Remove the custom ad blocker rule(s) and the page will load as expected.