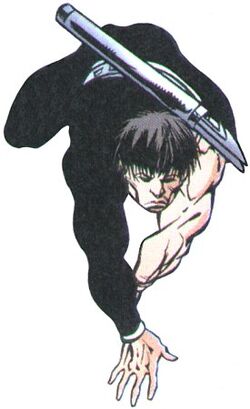 Not much has been revealed regarding the early life of the Eskimo mutant known as Harpoon (Kodiak Noatak). The details of his recruitment by Mister Sinister to the group of assassins known as the Marauders remains similarly unrevealed. Relentlessly deadly and fiercely devoted, Harpoon invaded the Morlocks´ underground tunnels in New York City, intent on wiping out their entire population. Despite fierce resistance from the X-Men, they were merely distractions from the task at hand. While the other Marauders murdered Morlocks, Harpoon plunged his spear into Archangel´s wings, necessitating their later amputation. He also caused Shadowcat to become trapped in a phased state and seriously injured Colossus, temporarily preventing the mutant´s body from turning back into flesh from its steel form. During the demonic invasion of New York, Harpoon was killed in a conflict with the X-Men. Clones of him and the other Marauders have been seen since.  
Powers and Abilities
Powers
Harpoon is a mutant with the superhuman power to transform longitudinal objects into various unknown forms of energy. He can imbue any such object with this energy, but the amount of energy varies with the size of the object. Harpoon must have thrown the object in order to transform it into energy. By throwing it, he can also charge the object with energy without actually transforming it to energy. Depending on the form of energy with which he imbues them, Harpoon's weapons can stun, paralyze, kill, explode, or disintegrate a living victim or inanimate target
Paraphernalia
Weapons
Harpoons
Ad blocker interference detected!
Wikia is a free-to-use site that makes money from advertising. We have a modified experience for viewers using ad blockers

Wikia is not accessible if you've made further modifications. Remove the custom ad blocker rule(s) and the page will load as expected.