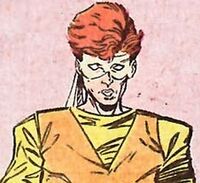 Biography
Joey Bailey was the youngest child of Sara Grey and the nephew of Jean Grey, founding member of the X-Men. He and his sister, Gailyn were transformed by Nanny into a superhuman duo known as Shatterbox. However they were transformed back by X-Factor. Like his sister, he is a latent mutant and was hunted by the Sentinels but was saved by Roust and X-Man. He was among the fatalities in the Shi'ar's raid on future Phoenix Force advocates. ]Before her death, Joey and his sister were planning to be adopted by his great-uncle Brian Grey along with his wife, and daughter. All three perished along with Gailyn and Joey.
Powers and Abilities
Powers
Telekinesis
Paraphernalia
Transportation
Formerly Nanny's flying spidership.
Ad blocker interference detected!
Wikia is a free-to-use site that makes money from advertising. We have a modified experience for viewers using ad blockers

Wikia is not accessible if you've made further modifications. Remove the custom ad blocker rule(s) and the page will load as expected.