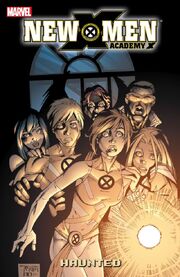 Synopsis
Collects New X-Men: Academy X #7-12. 
Someone…or something…is haunting the halls of the Xavier Institute, and it's up to the X-Men-in-training to get to the bottom of it! Can the New Mutants find a way to bring peace to this tortured being before they become the tortured? Plus: David Alleyne, a.k.a. Prodigy of the New Mutants, can absorb the skills and knowledge of anyone close by — but is doomed to forget everything as soon as they're gone. So what would happen if he could keep that knowledge instead of forgetting? He'd be the smartest kid in the world, right? Is it too much of a good thing?
Ad blocker interference detected!
Wikia is a free-to-use site that makes money from advertising. We have a modified experience for viewers using ad blockers

Wikia is not accessible if you've made further modifications. Remove the custom ad blocker rule(s) and the page will load as expected.