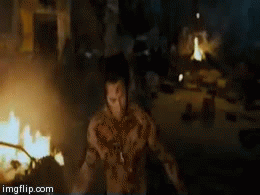 A Regenerative Healing Factor is the ability to heal and or regenerate lost and damaged tissues at superhuman speeds.
Other Names
Accelerated Healing
Superhuman Healing
Superhuman Regeneration
Accelerated Regeneration
Applications:
Immortality: the accelerated regeneration can cause users to recover from even the most deadly wounds, making them practically immortal.
Foreign Body Immunity: the ability of superhuman healing can also be applied, making one immune to virtually, if not all, known ailments and narcotics.
Claw Retraction: Those with an animalistic mutation and a regenerative healing factor, such as those with claws (especially internal claws that protrude out of a certain part of the body) are able to utilize them at will without having to worry about bleeding uncontrollably. The healing factor enables the user to heal up after having utilized their claws.
Limitations
User may not have all the applications that come with this ability.
User's healing speed may vary. The healing speed also may diminish over long periods of time.
Rendered useless if the user is exposed to power negation.
Users
Cinematic Universe
Ad blocker interference detected!
Wikia is a free-to-use site that makes money from advertising. We have a modified experience for viewers using ad blockers

Wikia is not accessible if you've made further modifications. Remove the custom ad blocker rule(s) and the page will load as expected.