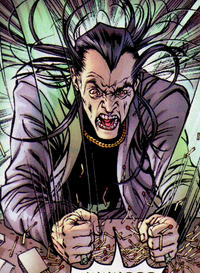 Biography
Daniel Kaufman is the owner of Daniel's Inferno. He is a lot more ruthless than his rival Frankie Zapruder. He is called Shaky due to his mutant powers. His bodyguard Mister Punch acted as his 'punching bag' during these episodes because of he had no pain receptors. he was involved in a gang war with Frankie over Toad Boy whose bodily fluids were a highly addictive drug.
Powers and Abilities
Powers
Kaufman's body generates a high amount of adrenaline. While this enhances his physical attribute, it also makes him prone to fits of rage.
Ad blocker interference detected!
Wikia is a free-to-use site that makes money from advertising. We have a modified experience for viewers using ad blockers

Wikia is not accessible if you've made further modifications. Remove the custom ad blocker rule(s) and the page will load as expected.