Synopsis
This stand-alone epic-action adventure set in modern day Japan reveals the untold story of Wolverine (Hugh Jackman), the most iconic character from the X-Men universe, and evolves the character saga to new levels of depth, intensity and visceral action. Out of his depth in an unknown world he will face a host of unexpected and deadly opponents in a life-or-death battle than will leave him forever changed. Vulnerable for the first time and pushed to his physical and emotional limits, he confronts not only lethal samurai steel but also his inner struggle against his own immortality, emerging more powerful than ever before.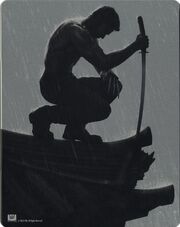 External Links
Ad blocker interference detected!
Wikia is a free-to-use site that makes money from advertising. We have a modified experience for viewers using ad blockers

Wikia is not accessible if you've made further modifications. Remove the custom ad blocker rule(s) and the page will load as expected.