Collects Uncanny Avengers 12-17.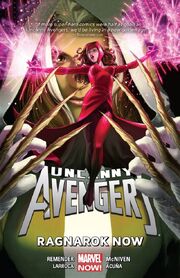 It's the dark origin of the Apocalypse Twins as Kang's true motives are revealed! A secret pact between Ahab and the Red Skull will bring horror to all mutants - but when a deranged Sentry kills an Uncanny Avenger, it's only the first casualty of many! As the Wasp faces the Grim Reaper, the Scarlet Witch confesses her true love and makes an impossible choice. And Sunfire and Rogue must defeat the Apocalypse Twins alone - or watch the end of our world! Wolverine fails mankind, more Avengers die, villains take their revenge, and the Unity Squad is left shattered. The fate of humanity rests in Thor's hands, but can even the God of Thunder defeat the combined might of two Apocalypses? Bring on the bad guys, because Ragnarök is now!
Reviews
If more super-hero comics were half as good as Uncanny Avengers, we'd be living in a new golden age. - Newsarama.com
Ad blocker interference detected!
Wikia is a free-to-use site that makes money from advertising. We have a modified experience for viewers using ad blockers

Wikia is not accessible if you've made further modifications. Remove the custom ad blocker rule(s) and the page will load as expected.