Ad blocker interference detected!
Wikia is a free-to-use site that makes money from advertising. We have a modified experience for viewers using ad blockers

Wikia is not accessible if you've made further modifications. Remove the custom ad blocker rule(s) and the page will load as expected.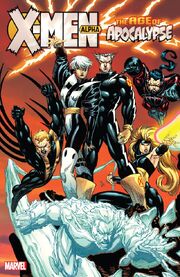 Collects Uncanny X-Men (1963) #320-321, X-Men (1991) #40-41, Cable (1993) #20, X-Men Alpha, Generation Next #1, Astonishing X-Men (1995) #1, Gambit and the X-Ternals #1, Weapon X (1995) #1, Factor X #1, X-Man #1, X-Calibre #1, Amazing X-Men (1995) #1. 
Fully updated reading order! Charles Xavier is dead — killed twenty years in the past during a time-travel accident — and the world created by his absence is a nightmare! Apocalypse rules with an iron fist, ruthlessly enforcing his dictum that only the strong shall survive. But hidden in Apocalypse's long shadow are a group of ragtag freedom fighters led by Xavier's oldest friend, Magneto: the X-Men! When Bishop, last survivor of the true Marvel Universe, explains how the world went wrong, these embittered mutants and their tenuous allies must risk everything to put things right!
Written by Warren Ellis Larry Hama Scott Lobdell Jeph Loeb John Francis Moore Fabian Nicieza Mark Waid Art by Chris Bachalo Ian Churchill Roger Cruz Tony Salvador Daniel Steve Epting Ron Garney Adam Kubert Andy Kubert Ken Lashley Joe Madureira Steve Skroce Cover by Andy Kubert Genres
Page Count 341 Pages Digital Release Date August 19 2015 Age Rating 12+ Only
External Links