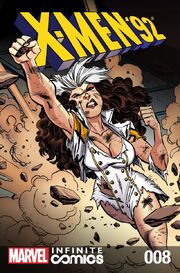 X-Force is on the scene after Kelly's attempted assassination. Your favorite X-team of the 90's has been brainwashed beyond recognition by Cassandra Nova...and are now her 'New' X-Men!
Gallery
External Links
https://www.comixology.com/X-Men-92-Infinite-Comic-8-of-8/digital-comic/262991?ref=c2VhcmNoL2luZGV4L2Rlc2t0b3Avc2xpZGVyTGlzdC9pdGVtU2xpZGVy
Ad blocker interference detected!
Wikia is a free-to-use site that makes money from advertising. We have a modified experience for viewers using ad blockers

Wikia is not accessible if you've made further modifications. Remove the custom ad blocker rule(s) and the page will load as expected.