Featured Article: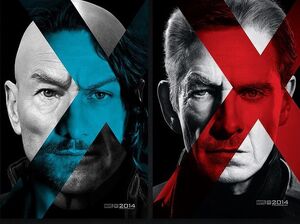 Days of Future Past is an X-Men movie released in 2014 that acts as a direct sequel to
First Class
and The Wolverine. Bryan Singer directed the movie. The ultimate X-Men ensemble fights a war for the survival of the species across two time periods in
X-Men: Days of Future Past
. The beloved characters from the original
X-Men
film trilogy join forces with their younger selves from
X-Men: First Class
, in an epic battle that must change the past - to save our future.
Featured Media
Pollbooth
What do you think of the upcoming movie LOGAN?
Which FOX proposed X-Men television show are you most excited about?
The Inhumans' Terrigen mist is killing mutants all over the world, what do you think of it?
What do you think of the new LOGAN trailer?
Latest Videos
Trending
We're creating an Instant Expert (i.e. Instant Expert:Age of Ultron) for the upcoming X-Men: Apocalypse movie. There is a section included in the IE …

Read more >
Check Out These Retro Series!
Content:

1,600 articles
2,576 files uploaded
8,148 total pages
25,286 all-time edits

Activity:
Ad blocker interference detected!
Wikia is a free-to-use site that makes money from advertising. We have a modified experience for viewers using ad blockers

Wikia is not accessible if you've made further modifications. Remove the custom ad blocker rule(s) and the page will load as expected.