Home
Talk

10
650pages on
this wiki
Welcome to X-Men Wiki, the X-Men encyclopedia!
Featured Article
X2
(also known in promotional materials as
X2: X-Men United
,
X-Men 2: X-Men United
, and
X-Men 2
) is a 2003 superhero film based on the fictional characters the
X-Men
.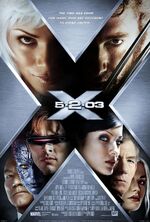 Directed by Bryan Singer, it is the second part of the
X-Men film series
, following
X-Men
(2000) and preceding
X-Men: The Last Stand
(2006).
It stars an ensemble cast including Hugh Jackman, Patrick Stewart, Ian McKellen, Alan Cumming, Famke Janssen, Anna Paquin, Shawn Ashmore, Aaron Stanford, Rebecca Romijn, James Marsden, Halle Berry and Kelly Hu. The plot, inspired by the graphic novel X-Men: God Loves, pits the X-Men and their enemies, the Brotherhood, against the genocidal Colonel William Stryker (Brian Cox). He leads an assault on Professor Xavier's school to build his own version of Xavier's mutant-tracking computer Cerebro, in order to destroy every mutant on Earth.
Pollbooth
What do you think of the upcoming movie The Wolverine?
Check Out These Retro Series!